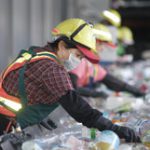 Plastic bottles are collected, processed and transformed by local companies into eco-fabrics, which are improving in quality and drawing worldwide attention.
The showroom at Super Textile Corp.'s factory-office complex at Taoyuan Youth Industrial Park rarely fails to impress visitors when they see fabrics, clothes, blankets and scarves placed alongside discarded polyethylene terephthalate (PET) bottles, which provide the raw material for the finished goods. An accompanying flow chart shows the process through which these used plastic containers are reborn, morphing them into a totally different form. While pointing at a grayish scarf, Alex Lo, Super Textile's managing director, says "It's made from six PET bottles. But you don't think of PET bottles when you see it."
Lo's company, which has been manufacturing fabrics in Taiwan for 34 years, started to think about producing fabrics from recycled raw materials in 1996, a time when society was becoming increasingly concerned about disposing of garbage in an environmentally sound manner. "Back then, PET bottles were causing a lot of problems in Taiwan, such as blocking gutters during floods," Lo says. "Putting them in landfills was even worse. It takes at least 400 years for plastics to degrade." As a result, in 1997 Super Textile began to develop what has become known in the industry as "eco-fabrics," which are made from recycled PET bottles. The company then began manufacturing eco-fabric shopping bags and caps, most of which were purchased by government agencies and civic groups in support of Super Textile's environmental protection efforts.
The manufacturing pipeline for eco-fabrics starts with garbage trucks and individual garbage collectors, which together constitute the upstream part of the production chain through providing waste bottles, or "raw materials." The midstream part includes processing plants like those operated by Oriental Resources Development Ltd., which produces flakes and chips, as well as fabric makers such as Super Textile. At the downstream end are apparel manufacturers like Far Eastern New Century Corp., which supplies garments for Nike, Adidas and other brand names.
The recycling of PET bottles to make fibers was actually begun in Taiwan in 1989 by the Far Eastern Group and the Shinkong Group, two big manufacturers that have provided large quantities of plastic containers for the local beverage industry since 1984, although they are mainly known to the public as heavyweights in the textile and apparel manufacturing sectors. The two companies jointly established Taiwan's first plant dedicated to recycling the PET bottles they churned out, and were joined in the project when beverage company Heysong Corp. signed on in 1994. Since 2006, however, the recycling plant has been operated solely by Far Eastern.
Taiwan's effort to recycle the bottles received a major boost and first began attracting significant attention when the Buddhist Compasssion Relief Tzu Chi Foundation, a prestigious Buddhist charitable organization, joined the trend in 1991, leveraging its multitude of volunteers to collect and recycle items including PET containers.
According to Fanny Liao, president of Oriental Resources Development, a major problem remained that hindered widespread acceptance of eco-fabric. "The quality of the fabrics was low at the time; they couldn't be used to make things people would wear," she says. Instead, the fibers were used for purposes such as making carpets. The "wearability" problem remained difficult to solve for a long time. Ten years ago, for example, 10 fashion designers were invited by the Consumers' Foundation to exhibit works made from fabrics derived from recycled PET bottles at a public show dedicated to promoting environmentally friendly textile products. One of the designers was Hsu Chu-i, a strong supporter of the eco-fabric trend. "The show was only experimental," she says. "The fabric felt quite rough then, unsuitable for the human body."
According to Alex Lo, the dearth of progress made toward producing recycled textiles suitable for clothing resulted from the low efficiency and high cost of processing the PET bottles. In the beginning, for every 100 kilograms of waste bottles collected, only 30 kilograms could be successfully recycled, as only that amount had been properly categorized and sufficiently cleaned. In the categorization process, PET bottles must be separated from other kinds such as polycarbonate-based plastic containers—baby bottles, for example—before they are processed. If the categorizing procedure is not strictly followed and PET is mixed with the other kinds of plastics, the resulting textile yarns will be rough and break easily.
The cleaning job is also crucial to the quality of the fiber produced. "Bottles that contained water are the best candidates for recycling," Lo says, as they enter the recycling process cleaner than other containers. Cleaning also extends beyond removing dirt and bits of leftover food or drink. Basically, a plastic bottle consists of three parts: the bottle itself; the cap, which is made of polyethylene (PE); and the label, which, until recently, was usually made of polyvinylchloride (PVC). The bottle has to be cleared of non-PET materials before it is crushed into flakes, then melted and formed into chips. The chips are later melted again and then processed to make fiber.
Real Advances
The last two years have finally seen real advances in the production of eco-fabrics, principally because of changes in government policy and advances in related technologies. On the policy front, PET bottle users such as beverage companies are encouraged to coordinate with the policies of the Cabinet-level Environmental Protection Administration (EPA). Since 1998, such high-volume users have been required by the EPA to pay a fee, which currently stands at NT$11.58 (US$0.36) for each kilogram of empty PET bottles used, to the EPA's Recycling Fund, which in turn is used to subsidize PET bottle recyclers. In 2005, the rate was increased by 30 percent for beverage companies that continued placing PVC labels on PET bottles, but the industry was slow to respond. Only when the EPA doubled the fee to NT$23.16 (US$0.72) in January 2008 did most beverage manufacturers begin making a serious effort to replace PVC labels with labels made from PET.
About 100,000 tons of PET bottles were recycled in 2009, a recycling rate of more than 80 percent. (Photo by Chang Su-ching)
As for technology, machines capable of categorizing waste bottles are beginning to replace costly human labor. Oriental Resources Development, for example, plans to import Taiwan's first optical sorting machine from Europe later this year, a device that relies on infrared light to pick out non-PET bottles during the categorization process.
On the other hand, Super Textile's Alex Lo, who is also a Tzu Chi member, says that the organization's workers do a better job of removing unwanted impurities than automated facilities when it comes to cleaning. Today more than 60,000 Tzu Chi volunteers work at more than 4,500 recycling stations around Taiwan to collect and clean plastic bottles before sending them on to plants for processing. Many of the "raw materials" for Lo's eco-fabrics have an origin in Tzu Chi's recycling stations, including those used to make the blankets that the charity gives to the economically disadvantaged, as well as to victims of natural disasters. Tzu Chi has an advantage in that its workers are unpaid, while commercial enterprises do not enjoy this luxury.
The level of cleanliness of the PET bottles is important to the recycling process because it determines how the resulting chips will be used. Chips made from recycled PET containers that have some impurities, for example, can be melted and spun into staple fibers, or short fibers. The end products made from staple fibers can compete on the basis of price with virgin man-made and natural fibers because of the lower cost of processing the bottles. These products include items such as carpets, filler materials and shopping bags.
A higher chip purity level is required to make so-called filament fibers, which are longer, finer and more durable, and thus better suited for making clothes. However, textiles made of filament fibers derived from recycled PET bottles are usually more expensive than competing types of fiber, as it takes more effort to sufficiently categorize and clean the bottles. According to estimates by Huang Po-hsiung, deputy director of the Taiwan Textile Research Institute's (TTRI) Department of Products, the price can be anywhere from 10 to 20 percent higher.
Aided by throngs of volunteers who collect and clean discarded PET bottles around Taiwan, Tzu Chi has played a role in the development of eco-fabric manufacturing on the island. (Photo by Huang Chung-hsin)
The price for articles made from filament fiber eco-fabrics may be higher, but their "cost" to the environment is definitely lower. Recycling PET bottles not only helps keep them from clogging Taiwan's drainage systems, but also conserves resources, Lo says. For example, while 100 kilograms of water is required to dye 1 kilogram of polyester-based clothing, little water is used to dye fabric made from recycled bottles. Instead, the color of the bottles, most of which are originally made in clear, green and brown plastic, mostly determines the color of the resulting fiber.
Producing eco-fabrics also consumes less energy and produces fewer pollutants than conventional fabrics. According to the findings of a joint research project conducted by Oriental Resources Development and Adidas, Fanny Liao says that the manufacturing process for recycled fabrics can result in a carbon footprint that is 30 to 40 percent smaller than that of making products from virgin sources. This is not only good for the environment, but also good for business. "The world's brand names are becoming more and more serious about projecting a green image," Liao says, adding that this change in attitude has inevitably encouraged manufacturers to look at producing textiles based on recycled materials.
While eco-fabrics have clear environmental benefits, it is not always possible to verify manufacturer claims as to recycled content. "Everyone says his products are environmentally friendly, but how do you tell the genuine stuff from fakes? They feel and look pretty much the same," says Lin Po-ju, a researcher at TTRI's Department of Products. To solve the problem, TTRI has been conducting experiments since 2008 to find a method for identifying fibers made from PET bottles. For now, the sector relies on the good reputation of Taiwan's manufacturers to win the trust of clients, an advantage that rivals in mainland China do not share, Huang says. This trust is reinforced when clients conduct inspections of processing plants to confirm recycled content.
Reducing Emissions
The increased recycling of PET bottles has also indirectly led to the environmental benefit of reducing emissions of harmful chemical compounds by reducing the amount of PVC entering the waste stream. The use of PVC labels was long the industry norm for Taiwan's beverage companies, mainly because of their low cost. However, not only do PVC labels make the recycling process more complicated, but they also carry a hidden danger, as PVC releases dioxins when burned, which can cause cancer and impair the immune system, among other harmful effects. Therefore, eliminating the labels would not only make the recycling process less costly, but also have clear health benefits. The EPA's 2008 move to double fees for beverage bottlers still using PVC labels has led most manufacturers to abandon them. According to Liao of Oriental Resources Development, which has urged beverage manufacturers to abandon the use of PVC labels and provided advice on alternatives, only 20 percent of all PET bottles still carry such labels. Most of these bottles are used by smaller beverage companies.
A robe produced by Super Textile. Fierce competition between eco-fabric makers can cut into profit margins, but is still good for the Earth, Super Textile managing director Alex Lo says. (Photo by Huang Chung-hsin)
As the eco-fabric industry matures, the level of competition is increasing. Fanny Liao notes that the business was quite profitable for Oriental Resources Development when it was the only player in the field 20 years ago, but operating margins began to decline as more businesses entered the market.
The competition with rivals in mainland China is particularly fierce. Like most other goods made in the mainland, eco-fabrics and eco-clothing are manufactured with the help of low-cost labor, making it difficult for Taiwan-made products to compete on price.
"The labor cost in the mainland is only half that in Taiwan, so they can afford to hire many workers to thoroughly remove impurities from used bottles," Liao says. "That's why we need to keep improving our production efficiency and cut costs to stay competitive." That strategy has been paying off for Oriental Resources Development for the last two years, as the company returned to profitability during that time.
One looming problem facing the eco-fabric sector is the dwindling supply of used PET bottles, which has resulted in underused production capacity, Liao says. There is not much relief in sight, either, as Taiwan's recycling rate is already quite high, especially as compared with, for example, the rates in the United States and Europe. In 2009, Taiwan recycled 100,000 tons of PET bottles, or more than 80 percent of all used bottles on the island. By comparison, around 5 million tons of PET bottles are expected to be recycled worldwide this year, or 26 percent of all discarded PET bottles, according to figures released by England-based PCI (PET Packaging, Resin and Recycling) Ltd.
If mainland China and other international players were to become interested in playing a bigger role in eco-fabric production, an intense global competition for used PET bottles would eventually become inevitable. In fact, Taiwan is already importing waste bottles to satisfy the demands of local eco-fabric makers, although Liao notes that her company still uses local bottles, because the fuel and carbon produced by transporting them from abroad negates their environmental benefits.
With energy prices remaining fairly high, the trend toward recycled, energy-saving products has picked up momentum, with the result that waste bottles are becoming more and more valuable. "When the price of energy goes up to a certain level, recycling these bottles becomes more worthwhile," Liao says.
"When I see a PET bottle, I think of petroleum, which is valuable," Alex Lo says of the petroleum-derived polymer. "Petroleum doesn't necessarily have to stay underground; it also can exist right before your eyes in the form of a bottle. If a PET bottle is in the right place, it's a valuable thing. If it's not, it's trash." Although the eco-fabric division of Super Textile has yet to turn a profit, Lo will keep investing in it, as he believes recycling PET bottles has environmental as well as commercial value.
"One day it will be rather difficult to find PET bottles because so many things can be made from them," Lo says. "I may soon confront the challenge that no waste bottles can be found to serve as raw materials for manufacturing eco-fabric. But I'd be happy with that. It'd be a good thing for the Earth."
Resource:                                                                                                                         https://taiwantoday.tw/news.php?unit=14&post=23859